Hair Therapy Wigs - Medical Wig Specialist
At Hair Therapy Wigs we are a small team specialising in understanding and meeting the needs of our clients while providing an atmosphere of care and privacy.
Our unique Hair Therapy Studio in Somerfield, Christchurch, is a place to find solutions for all of your hair loss concerns. Have you ever wanted to reach out for help with your hair loss or hair thinning? Whether it be due to genetic hair loss, diabetes, chemotherapy, radiation therapy, alopecia, surgery, or any other medical issue you may be experiencing - we are here to provide just the right hair therapy solution tailored to you.
Leading the team is Diane Watson, herself a former client of Hair Therapy Wigs. As Diane will tell you, she is now living her dream of providing an outstanding range of products, with quality service and assistance in hair loss for women, men and children of all ages, backed up by her personal experience and thorough industry knowledge.
A consultation fee applies, except when referred by a medical professional. We specialize in assisting with applications for Medical Grants for your wig, hairpiece, or other hair loss solution.
Hair Therapy Wigs are proud to be New Zealand's exclusive distributor of The Hair Grip! It's a revolutionary new product that holds your wig firmly on your head.
- No Slipping!
- No Hair Pins!
- No Double-Sided Tape!
- No Headaches!
For more information on how The Hair Grip can change your life, contact Diane and the team at Hair Therapy Wigs!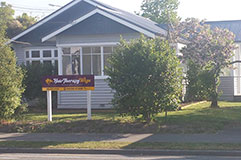 Our address: 105 Barrington Street.
Phone: 03 332 8569