Hair Loss and Wig Services

People don't realise how important their hair is until they are without it. Ask any woman who has undergone treatment resulting in hair loss and they will tell you that losing their hair is worse than dealing with having cancer.
When it comes to hair loss we have experience in providing wigs and other solutions to treat a variety clients, men and women of all ages, with their unique needs.
Wigs and Hair Solutions in Canterbury

Hair Therapy Wigs have an established agency with Wigs by Hair Creations who import the European Style wigs from Ellen Willie in Germany.
We are specialist wig and hairpiece providers, catering to specific requirements. We can show you realistic solutions for your individual hair loss needs, and our qualified consultancy team can give you back the appearance of a full head of hair, that looks and acts like real hair.
We also offer wig solutions for any issues such as fitting. We can provide hair bands, hair nets and gel bands, and many more popular solutions to ensure your wig feels permanent and secure.
Overnight Wig Service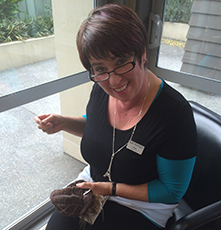 We understand that our clients don't like to be without their wigs, so we offer a convenient overnight wig service to ensure that you are without your wig for the shortest time possible.
You can drop your wig off to us in the afternoon for our quality overnight wig maintenance service, and collect it first thing the next day. Contact Us for more information about our overnight wig maintenance service.
A wig service may include:
Shampoo, condition and comb up your wig
Rejuvenate your wig to reduce dry ends or burring.
Please note: This service is only available for wigs that have the Ellen Willie Brand.
On-Site Visits for Wig Consultations

Diane Watson makes regular visits to people in need throughout the Christchurch region including Ashburton and Timaru. She visits those who cannot visit our Hair Therapy Wig clinic personally, sharing her understanding and experience to offer quality solutions.
One of the locations that Diane makes personal visits to is The Bone Marrow Unit at Christchurch Hospital. This is a very sterile environment offering the highest level of care and isolation, and Diane is one of very few who are welcomed to consult one on one with patients in their care. Both new and repeat clients greatly benefit from Diane's special brand of care, advice and personal attention.
Diane has also visited Ronald McDonald House, offering peace of mind and expert solutions with complete privacy, for children and families.
If you would like to arrange a visit to our clinic, or would like to a personal visit from Diane, please Contact Us to make an appointment today.
What To Expect

For more information on what is involved in the steps both leading up and beyond having a customised wig for you, read more on our Hair Therapy Process page.